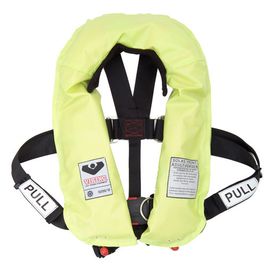 VIKING Inflatable SOLAS Lifejacket
Buoyancy: 275 Newton, symmetrical
Approved according to SOLAS MSC 48(66) incl. 2010 amendments and EU-directive 96/98/E
Dimensions:
Packed: Approx 60 x 35 x 8 cm
Inflated: Approx 78 x 50 x 28 cm
Weight: Approx 2,3 kg
According to regulations, all lifejackets comes with a light, whistle, reflective tape, lifting strap, buddy line and two automatic inflation systems. For added safety VIKING has mounted a crotch strap.
The new VIKING tailor-made solution:
This item no. refers to the buoyancy level. For a complete tailor-made solution, please select between these custom configuration options:
Buoyancy
Cover material
Closure (buckle style)
Inflation system
Light
Optional items:
Sprayhood
PLB pocket
PLB
In the right column you will find all the answers to your questions in the Buyer's Guide to SOLAS Lifejacket.